Zen Master Thich Nhat Hanh Public Talk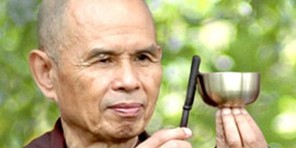 Public Talk: The Present Moment: Wisdom for Global Peace and HappinessWhen: Saturday, August 17, 2013
@ 3 pm
Where: Sony Centre, 1 Front St. E., Toronto
Internationally respected peace activist, poet and Zen master Thich Nhat Hanh will be coming to Toronto this August with 100 of his monks and nuns to give a public talk at the Sony Centre and lead a sold-out, 1,300 person, 5-day Mindfulness Retreat for Educators at Brock University. This will be his first visit to Ontario in 20 years.
Thich Nhat Hanh is one of the most loved and respected mindfulness teachers in the world. He changed the course of history by inspiring Dr. Martin Luther King Jr. and others to oppose the Vietnam War, leading Dr. King to nominate him for the Nobel Peace Prize in 1967. Since being exiled from Vietnam in 1966 for his peace efforts, he has focused on teaching those in the West, coining the now-popular term "mindfulness" in his 1975 book "The Miracle of Mindfulness" to describe the Buddhist practice of coming back to the present moment in order to more deeply and objectively experience life, relieve one's suffering, and bring happiness to oneself and others.
Now 87 years old, he lives in Plum Village, a monastery and retreat centre in France, and leads a worldwide community of monks and nuns and tens of thousands of individuals who practice his teachings.
"Among Buddhist leaders influential in the West, Thich Nhat Hanh ranks second only to the Dalai Lama,"
says the New York Times. His Holiness the Dalai Lama himself says "Thich Nhat Hanh shows us the connection between personal inner peace and peace on earth."
The theme of the public talk is "The Present Moment: Wisdom for Global Peace and Happiness." Thich Nhat Hanh will teach how people can use mindfulness to bring peace and happiness to themselves, those around them, and the world.
Limited Tickets go on sale in person at Mindful BodyWorks on June 4th, 2013
Orchestra Seats: $60
Mezzanine: $50
Balcony: $20
*HST Included in Prices
Tickets are also available at Ticket Master or in Person at the Sony Centre:
• Online at
ticketmaster.ca
on June 1st at 10am.
---