YOGA FOR HEALING BACK PAIN w/ Andrea Peloso (4-Week Series)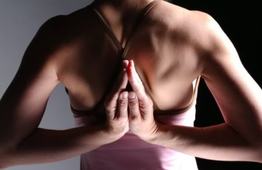 Mondays, November 4th, 11th, 18th & 25th, 2013 from 6:00pm-7:00pm
Have you being suffering from ongoing or recurrent bouts of back pain? For most people with back pain, a specific cause can't be found. However, the most common cause of low back pain is muscle or ligament strains. People who suffer from back pain often have to try a number of different forms of exercise to find the most appropriate therapy to manage their pain. For many, yoga has proven to be a safe and effective way to relieve many forms of back pain and help prevent ongoing problems.
Yoga can help to stretch, strengthen, and relax the back. Yoga poses are rooted in the core of the body. When poses are supported with the core, the strain on other areas, such as the back, is greatly reduced. Furthermore, yoga exercises the entire body. Strengthening the muscles of the lower back and legs will increase blood circulation, which will bring healing nutrients to injured tissues. As your yoga practice continues and these muscles are strengthened, this core support will extend into your everyday life
Save your back by attending Andrea Peloso's 4-week workshop on Yoga for Healing Back Pain. Using applied anatomy and hands on practice you will explore the health of the spine in a gentle and thorough manner. Students can expect to leave this workshop feeling a new sense of space, alignment, and length in their spine and pelvis. Tools and tips will be given to help maintain a pain free back in day to day life. No Yoga experience necessary.
Benefits of Yoga for Healing Back Pain:
Healing injured back muscles
Speeding time to recover from an injury
Preventing re-injury
Helping maintain a regular level of daily activities and avoid disability
Instructor:
Andrea Peloso
Dates
: Mondays, November 4, 11th, 18th, 25th, 2013 from 6pm-7pm
Fees:
99+ HST (Monthly and Auto Renew members receive 10% OFF)
Registration Deadline:
Friday Nov. 1st, 2013
*
This workshop is limited to 12 students. Pre-registration and pre-payment are required to reserve your space.
**A refund will be applied if students withdraw from the workshop on or before Nov. 1st, 2013. Students are encouraged to attend all four workshop dates to obtain optimal results.
No refunds or credit will be applied to missed workshop dates once the workshop begins.
---