Friday February 14th, 2014 at 6pm-7:30pm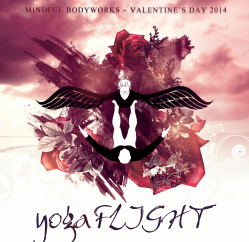 About yogaFLIGHT
yogaFLIGHT is a fascinating combination of yoga and flight, intertwined with the breath and balance of a partner.
Come join sKY:: & slaDE~ on February 14th, 2014 for a 1.5 hour yoga for couples workshop that explores the depths of playfulness, trust, loving kindness, communication and community. No yoga experience necessary!! yogaFLIGHT is for everybody and EVERY body.
Couples often look for new ways to bond with each other. One way to do this is to participate in couple's yoga or yoga for couples. Couple's yoga takes place when two people work together in various yoga postures.
Within the couple's yoga practice, you will at times act as an assistant to your partner, support your partner's yoga postures and vice versa, and at times create new yoga postures with equal input from both of you. Both partners have the opportunity to support and be supported in the practice. Skills of observation and of verbal and non-verbal communication are enhanced, and the qualities of trust and vulnerability, so vital to deepening intimacy, are nurtured in this unique practice. Improve both your health and relationship through couple's yoga.
BENEFITS OF yogaFLIGHT and Yoga for Couples:
New way to bond with each other in order to feel closer mentally, physically and spiritually
Strengthen your relationship by communicating with each other through postures and assistance
Great way for men to discover the amazing benefits of yoga, not only for their health but for the vitality of their relationship
Laughing and having fun together!
*Bring your spouse, partner or a date and a level of curiosity and playfulness and experience yogaFLIGHT for Couples!
---
Instructors: Sky & Slade
Date: Friday Feb. 14th, 2014 at 6pm
Cost: $39 +HST
*Limited to 10 couples, register in advance to reserve your space.

---