Sister Chan Khong: Touching of the Earth & Learning True Love Book Signing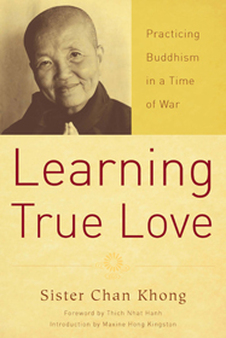 Sunday August 11th, 2013: 10am-2pm (Earth Room)
Sister Chan Khong is a dedicated activist and gifted teacher in the practice of mindfulness meditation and beginning anew. On Sunday August, 11th, 2013 she will be visiting Mindful BodyWorks to offer students a meditative practice called
Total Body Relaxation
and
Touching of the Earth.
During this rare visit, we will also have a book signing to promote Sister Chan Khong's book called,
"Learning True Love: Practicing Buddhism in a Time of War
".
Sister Chan Khong's
Learning True Love
stands alongside the spiritual autobiographies of Martin Luther King, Jr. and Mahatma Gandhi as a remarkable story of one woman's search for social and spiritual change. Sister Chan Khong tells the story of her odyssey from a small village in Vietnam to her role as a nun and spiritual leader in Thich Nhat Hanh's worldwide community of monastic and lay practitioners. A testament to the power of tenacity and faith,
Learning True Love
is also an introduction to the life and mindfulness teachings of Thich Nhat Hanh and an overview of the development of the European and American peace and human rights movement.
The centerpiece of this fully-revised edition is a moving account of Sister Chan Khong's return to her homeland of Vietnam after 40 years of exile.
Learning True Love
is the remarkable and impressive story of a courageous woman who has faced life's challenges with unflinching integrity.
Morning Program: Sunday August 11th, 2013
9:00am-9:45am: Tea & Registration

10:00am-11:30am: Total Body Relaxation & Touching of the Earth (Meditation Practice)

11:45am-1:00pm: Learning True Love Book Signing
1:00pm-2:00pm: Mindful Eating Lunch (Vegan)
Cost:
Meditative Practice, Book Signing and Mindful Eating Lunch is Free of Charge. We will have books available for purchase online or in person at the studio. Attendees are welcome to make donations and all proceeds will go to Plum Village (www.plumvillage.org).
Deadline to Register:
Thursday August 8th, 2013.
* Space is limited to
40 people
for the meditation practice and unlimited attendees for the book signing and Mindful Eating Lunch. Please register below to reserve your spot and to help us determine how much food to prepare for us to enjoy eating mindfully together.
About the Author:
SISTER CHAN KHONG was born in a village on the Mekong River Delta in 1938. As a teenager propelled by her passionate dedication to social change, she began working in the slums of Saigon distributing food, helping the sick, and teaching children. At the age of 21, she joined Zen master Thich Nhat Hanh in founding the School of Youth for Social Service, which grew to an organization of over 10,000 young people organizing medical, educational, and agricultural facilities in rural Vietnam, and rebuilding villages destroyed by the war. Sister Chan Khong became well known in the anti-war and peace community for her work promoting human rights and protesting repression and violence, often at risk of her own life. Sister Chan Khong continues to work closely with Thich Nhat Hanh in Vietnam and in Plum Village, his retreat center and community-in-exile in France.
Shambhala Sun-Path of Peace: The Live and Teachings of Sister Chan Khong
---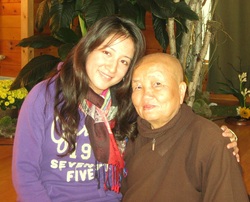 "In August 2009, I met Sister Chan Khong in Plum Village, France for the very first time and had the opportunity to have tea with her while speaking to her about mindfulness and my future goals as a counselling psychologist. I was scared about graduating and I yearned to offer mindfulness meditation in the West, which was not readily available at the time. Sister Chan Khong gave me the idea of the Canadian Mindfulness Centre and encouraged me to pursue my own private practice to give back to my community and the world at large. Sister Chan Khong's undying compassion, genuineness and love for everyone she meets shaped me into who I am today and without her support and words of encouragement, the Canadian Mindfulness Centre would not exist. I am very honored to host her visit to Toronto at Mindful BodyWorks and look forward to having our community be embraced by her loving-kindness."-Chau Du, Director of Mindful BodyWorks & Canadian Mindfulness Centre
---