The Mindful Brain: Introduction to Mindfulness Meditation w/ Natalia Ria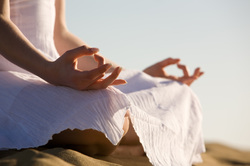 Sunday, 7 July 2013 @ 1:00-3:00PM
The effects of Mindfulness Meditation on the Brain is one of the most highly researched topics in the field of Neuroscience today.In this workshop you will learn practices of Mindfulness Meditation that will boost the health of your brain and help you reconnect with your innate sense of well-being. We will also explore some of the latest research from Neuroscience pertaining to optimal mental health, happiness & your brain and the quest for the True Self.
You will learn to:
Expand your self-awareness
Find relief from distressing emotional states like depression/anxiety
Gain clarity of mind
Reconnect with a deep sense of well-being
Awaken compassion towards yourself and others
Improve concentration
Promote optimal mental health
Find relief from stress
Cultivate true happiness
Schedule: Sunday, 7 July 2013 @ 1:00-3:00PMCost:
$45 + HST (10% off for members)
Deadline to Register: Friday July 5th, 2013
*20% Deposit is required to hold your spot in the workshop. Refunds can be issued on or before July 5th, less $10 administration fee.
Participant Feedback
"This workshop was impactful. It opened up my soul so I could allow myself to feel in a positive way, opening my heart to be more compassionate towards myself and allowing me to have positive thoughts instead of the negative surface thoughts. Thank you so much Natalia!"
- Jen
"This workshop was a million times more than what I expected going in. I feel like I actually learned more about who I am and what goes on in my mind than I have ever known. I learned today to feel, allow myself to feel and how to love myself and take care of myself. This workshop changed my life. THANK YOU."
- Elizabeth
"This is my first meditation workshop or guided instruction and holy mother of Earth! I came in with such an aching heart, proceeded to follow it down the rabbit hole with your guidance and experienced relief; real, true, joyous release in a way I'm not sure I've ever known. Thank you for helping me find this place inside myself."
- Tynan
---