Restorative Yoga for Stress Relief Workshop w/ Natalia Ria
April 20th, 2013 at 1:00pm-3:30pm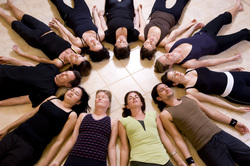 ---
In the first part of the workshop, you will explore:
Biochemistry of Stress
What is the Stress Response and how to manage your autonomic nervous system
How stress affects mental, emotional and physical health
Quick, Easy & Practical Stress Management Tools from Restorative Yoga to bring your mind and body into balance and prevent the onset of disease
In the second part, you will be guided on a journey of deep relaxation applying stress management tools through:
Guided Relaxation & Meditation
Therapeutic Restorative Yoga Poses
Breathing Practices
At the end of this workshop, you will have a clear understanding of the physiology of stress and have a strong tool set to manage stress in your every day life.
Date: Saturday April 20th, 2013
Time: 1:00pm-3:00pm
Instructor : Natalia Ria
Cost: $40 plus HST
Registration Deadline: April 15th, 2013
To register, please complete the following registration from and submit. Should you have any questions or concerns, please do not hesitate to contact us at info@mindfulbodyworks.ca .
PARTCIPANT FEEDBACK
'What an amazing workshop! I really am starting to understand where to begin in terms of reducing my stress and increasing my relaxation. You did a wonderful job of explaining all the triggers as well as solutions for combating stress. Thank you so much for sharing you knowledge!'
'I wish I had this information years ago. It opened my eyes to difficulties I had when I was still working and which still sometimes bother me. Now I have tools to find a solution. I will definitely use what I've learned.'