Restorative Yoga for Strengthening Your Immunity w/ Andrea Peloso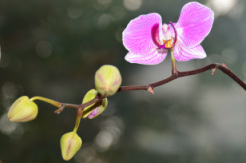 Do you find yourself getting sick endlessly or find it hard to shake an illness once it has hit you?
A weak immune system is a major reason why people get sick and take a long time recovering. If we could eliminate the causes that suppress our healthy immune system, we would increase the possibility of not getting sick.
Restorative Yoga is very beneficial and provide many different health benefits such as lower blood pressure levels and calming of the nervous system. Other benefits of restorative yoga include helping to strengthen the immune system! A stronger immune system means that the body is less vulnerable to disease and thus protects the body against many different diseases.
This workshop will explain what Restorative Yoga for Strengthening Your Immunity is and why this style of yoga is beneficial to your body, mind and spirit.
The workshop will introduce a number of restorative yoga poses that are extremely effective in producing the "relaxation response" and in counteracting the negative effects of the "stress response" on the immune system.

Students can do these poses at home and will be provided with a handout detailing the poses and listing resources for further study.


Instructor: Andrea Peloso
Date: Sunday December 8th, 2013
Time: 2:00- 4:00 pm
Fees: $35 (Auto-Renew Members receive 10% OFF)
Deadline to Register: December 6th, 2013
Pre-registration is required in advance to reserve you place. Space is limited to 12 people.

---