Intro to Naturopathic Medicine & Spring Detox w/ Dr. Pete Douros, ND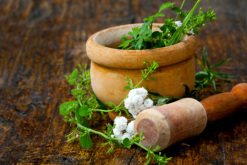 It's that time of year- birds are chirping, days are longer and the snow is melting away! Unfortunately, for many of us this long harsh winter was a time of inactivity, leaving us feeling sluggish and not at our optimal health. Spring is a great time to detox and I want to share my tips with you on how to do so safely with foods, herbs and lifestyle changes. Far too many people undertake a detox and don't realize there are important considerations and preparations that are necessary before you begin to ensure it is a safe and effective process. Join me on April 8th, when I will be providing guidance and precautions for safe detox.
What will I learn in this talk?
How Naturopathic Medicine can help prevent future illness and naturally treat disease
Why detoxification is important in the body
How to prepare your body for safe detoxification and when it is not safe
Foods, herbs, vitamins and lifestyle changes that help the body detox
Who should attend?
Anyone interested in natural living and keen on learning about the benefits of Naturopathic Medicine
Anyone considering doing a detox this spring
Anyone who has digestive issues (like constipation, diarrhea, bloating) and is wondering how this relates to toxicity in the body
Anyone with extended health benefits (which often cover Naturopathic Medicine) who wants to explore an unused area of their health benefits
Dr. Pete looks forward to answering your questions about safe detox at the talk. If you have any questions, feel free to contact him directly.
---
DATE: Wednesday March 14th at 6pm-7:30pm

FEES: $10 with complimentary class pass to attend Restorative Yoga at 7:30pm or FREE for individuals who are participating in the 30 Day Spring Forward Challenge.

*Limited to 15 attendees. Pre-registration required to reserve your spot. Complimentary tea and healthy snacks will be served.

To Register, visit us in person during studio hours or sign up using our mindbodyonline software.


About Dr. Pete
Dr. Pete is a licensed Naturopathic Doctor, with a background blending modern scientific knowledge with traditional and natural forms of medicine. He has a special interest in mind-body medicine and homeopathy but utilizes a number of different natural approaches to help patients with a wide variety of health conditions. Dr. Pete is most passionate about working with patients to explore all aspects of themselves to understand the root cause of their health concerns, rather than just treating symptoms.

drpete@awakenedheart.ca
www.awakenedheart.ca
FACEBOOK: https://www.facebook.com/awakenedheartnaturopathic


---