Mindfulness in Motion: Combining Running & Yoga (6 Week Series)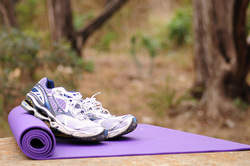 Running and yoga are both forms of moving meditation, helping us achieve mindfulness and inner peace. Running is a great form of exercise that helps us build endurance and cardiovascular health. When paired with yoga, we can expect to increase flexibility, strength and mental focus. This will lead to a stronger sense of self, increasing body awareness, breath control and concentration. Join us weekly on Sundays for a fun, dynamic group followed by Vinyasa Flow specifically tailored to meet the needs of a runner's body or for individuals who want to develop a regular running regime. The workshop is suitable for runners of all levels.
Each week, we will begin with a 3-5 km run with your instructor, followed by 45 minutes of led Yoga for Runners.
Over the 6 weeks, you will learn:
The benefits of combining running with yoga
Different styles of yoga to aid runners
Develop your running routine with a group and an experienced running instructors
How to integrate an at home yoga practice specifically for runners
Moving Meditation and Mindfulness
Breathing techniques for both running and yoga to gain mental calmness and stress reduction

Fall 2014 Start Date: Sundays, October 5th-November 9th, 2014
(Registration Deadline: Oct. 3, 2014)
Spring 2015 Start Date: Sundays, March 22nd-April 26th, 2015
(Registration Deadline: March 15, 2015)
Time:
10am-11:30am
COST: $130 for Non-Members; $65 for members with Monthly Memberships
*Spaces are limited to a maximum of 8 students
_
---