The Bell of Mindfulness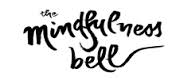 On your arrival to Mindful BodyWorks, you may hear a bell sound and suddently people around you are standing still, they have stopped talking, or stopped moving. We call this practice the "Bell of Mindfulness" and when you hear the bell, it is an invitation for you to pause, relax your body and become aware of your breathing. As best you can, return to yourself and be aware of your experiences in the present moment.

By stopping to breathe and restore your body, you can become free, more present and no longer in autopilot. You may also practice this technique when you hear the telephone ring, the local church bell chime or even the honking of a car as your bell of mindfulness. With three conscious breaths, you can release the tensions in our body and mind and return to a calm and clear state of being.