Full Primary Series Ashtanga Yoga Workshop for All levels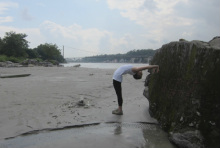 Are you curious about Ashtanga Yoga? Have you been to a few classes, or even been practicing for a while and never fully practiced the primary series? Perhaps it is all new to you but the flowing dynamic style of yoga peaks your interest.

This workshop will be a two-hour led class that moves through the full primary series, focusing on breath, alignment, and bandhas. The primary series, developed by Sri K. Pattabhi Jois, is called "Yoga Chikitsa" which translates to "Yoga Therapy". It is a sequence designed to realign the spine, detoxify the body, and build strength, flexibility and stamina.

In this workshop you will have the chance to experience the full series from start to finish, unifying breath with movement and furthering your practice of calming the mind through concentration. All participants will also be provided with a handout of the full primary series postures at the end of the workshop, and encouraged to begin exploring a self-directed practice.

---
Instructor: Norah Sadava
Date: Saturday April 12th, 2014
Time: 1:00-3:00pm
Cost: $35 +HST, Auto-Renew Members receive 10% OFF
Deadline to Register: April 8th, 2014

About Norah
Norah took her first yoga class at the age of 15 and has been dedicated to the practice ever since. A performer, musician, and traveller, she has a sense of play and humor that she feels is an important part of any yoga practice. Norah completed her ashtanga-based 200hr teacher training with Michael Gannon in Scotland in 2009 and, and went on to complete her hatha-based 500hr training in India in 2013. With a firm grounding in both traditions, Norah cultivates a practice that emphasizes stability and breath, as well as flow and strength. In a fast-moving, high-pressure world, Norah underlines the importance of a consistent physical practice to ground us in our bodies, our breath, and to foster a state of ease in both mind and body. She is supremely grateful to all of her teachers past and present, and is humbled by the endless learning process which is yoga.

---